Blog piece by the Australian Embassy in celebration of 2019 NAIDOC Week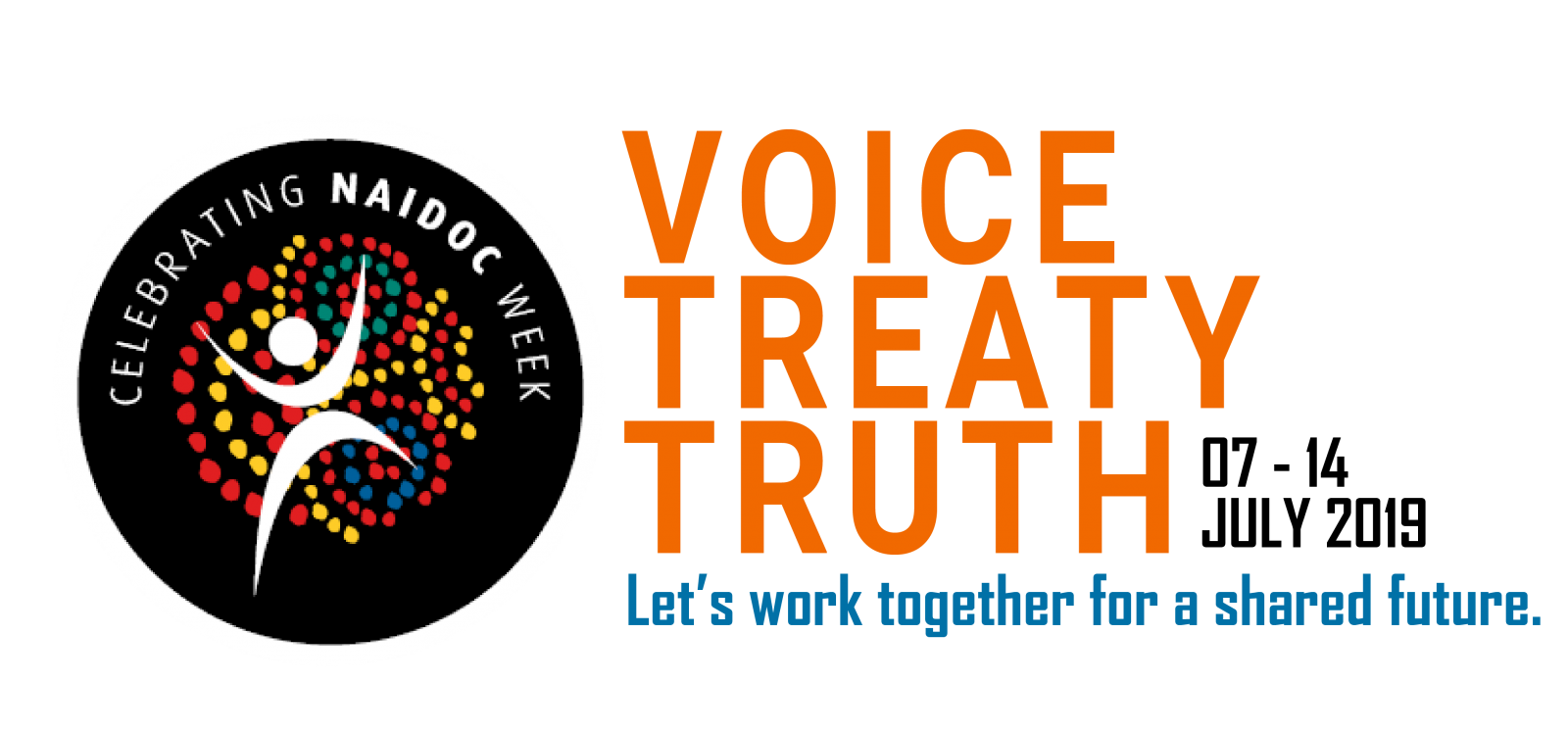 2019 National NAIDOC logo
The National Aborigines and Islanders Day Observance Committee (NAIDOC) is a weeklong celebration of the history, culture and achievements of Aboriginal and Torres Strait Islander people. It is a time to pause and reflect on the history of Australia and the richness of our Indigenous culture.
The origins of NAIDOC can be traced back to the 1920's where Aboriginal groups sought to increase awareness in the wider community of the status and treatment of Aboriginal and Torres Strait Islander Australians.
Over the past nine decades, the recognition and acknowledgment of Indigenous Australians has steadily increased. In 1938, protestors marched through the streets of Sydney, followed by a congress attended by over a thousand people. One of the first major civil rights gatherings in the world, known as the Day of Mourning.
The day of mourning created the catalyst and widespread support for an annual event. We then saw from 1956-1990, the establishment of the Department of Aboriginal Affairs; the National Aborigines Day Observance Committee (NADOC) was composed entirely of Aboriginal members – for the first time. The following year, it was decided that the day should cover an entire week. With a growing awareness of Aboriginal culture, NADOC expanded to recognise Torres Strait Islander people and culture. NAIDOC – the new name has become the title for the entire week. Each year, a theme is chosen to reflect the important issues and events for NAIDOC week.
For generations, Indigenous Australians have sought recognition of their unique place in Australian history and society. This year's NAIDOC theme 'Voice. Treaty. Truth', lets work together for a shared future is a unique and timely opportunity to hear this nation's Indigenous voice – it aligns perfectly with the UN's International Year of Indigenous Languages celebrated in 2019.
The Indigenous voice of Australia is over 65,000 years old. This voice makes Australia so distinctive. The 2019 theme acknowledges that Aboriginal and Torres Strait Islander peoples have always wanted an enhanced role in decision-making in Australia's democracy. The theme also seeks to highlight the voice of First Nations' desires for lasting and effective agreements such as Treaties.
It would be disingenuous not to acknowledge the struggle of Australia's first people. The existing gap between Indigenous and non-indigenous Australians in indicators such as education and employment, where only 62% of Indigenous students complete year 12, compared to 86% of non-indigenous Australian. In 2017, Indigenous prisoners represented 27% of the total full-time adult prisoners – a staggering number consider Indigenous Peoples make up on 2% of the total Australian population.
Family and community wellbeing indicators are also frightening, where Indigenous children were almost 10 times more likely to be placed in home care than non-indigenous children.
The pay discrepancies are staggering. On average, the weekly income of Indigenous Australians was $542 compare with $852 for non-Indigenous Australians.
It was not until 1962 – sixty some years after the Commonwealth of Australia was formed that Indigenous Australians were able to vote in Commonwealth elections.
Steps have been taken and progress continues.
Domestically, the Australian Government is committed to bringing policy approaches that nurture hope and optimism rather than entrench despair.
We do things with Aboriginal and Torres Strait Islander people, not to them. We strive for a partnership based on mutual respect.
We do not have an Indigenous parliament, but Indigenous Australians are represented in every aspect of public life, including in our national parliament, which now has five elected Indigenous members. We are in the midst of an unprecedented national effort to improve Indigenous outcomes in education, health and employment and the Australian Government has committed to holding a national referendum to recognise Indigenous Australians in our Constitution.
Internationally, Australia joined the world in celebrating the ten-year anniversary of the UN Declaration on the Rights of Indigenous Peoples.
Australia reaffirms our commitment to the Declaration — the most comprehensive statement on the rights of Indigenous Peoples. We will continue our wholehearted efforts to advance the interests and defend the rights of Indigenous Peoples in Australia and around the world.
As part of our UN Human Rights Council seat (2018-2020) we have prioritised advancing the rights of Indigenous Peoples as a key pillar of term.
The richness of aboriginal culture is prominent in the Australian Embassy Sweden.
Ambassador, Mr Jonathan Kenna, in the mid-1990s worked for five years for an Aboriginal organisation, living in Alice Springs, a small town right in the centre of Australia.
Up close he saw the richness of our Indigenous cultures, their deep connections to and understanding of their country.
But also the social and economic challenges they faced, and the psychological burdens that many carried. Their bravery, but also their despair.
"Our Indigenous communities have suffered and suffer still. However, they have also shown huge resilience, energised — it seems to me — by the strength of their connections to their lands, to their languages and to each other".
It's through these connections and experiences that the Ambassador has prioritised budding strong connections with the Sami community in Sweden.
Deputy Head of Mission, Tina Lawson, is a proud Aboriginal, Iman woman who with the support of her family and mob is on a journey to discover her story. Along this journey, Tina has met incredibly strong Indigenous women and men who have worked tirelessly to protect the First Nations' cultures.
Last year, the Australian Embassy in Stockholm held a Handover Ceremony to mark the repatriation of Australian Indigenous ancestral remains to their families and traditional country, wrongfully removed centuries ago. During the Handover Ceremony the people of Kaurna Nation in South Australia asked Tina to speak on their behalf, in front of representatives from the Sami Parliament and community, Swedish Government and universities, stating that, 'the processes and practices of repatriation and reburial of our Old People are important for the cultural learning of Indigenous People and non-indigenous people."
"I was proud to represent my country, one that actively supports and assists Indigenous Peoples to seek and secure the repatriation of their ancestors."
Second Secretary, Sara-Kate Goltz-Wharton, a Kombumerri woman from the Gold Coast grew up with a strong connection to her indigenous heritage. Raised by strong Indigenous women and men, Sara-Kate is driven by her family's resilience, culture and connection.
Sara-Kate has a particular interest in promoting and advancing the rights of Indigenous Peoples in the multilateral space. Taking her culture and her history and translating that into meaningful action.
Over the past six years working for the Department, Sara-Kate has worked in a wide range of sections – working on the Australia Awards program to the Afghanistan education program – working to pursue outcomes for the ASEAN-Australia Special Summit and furthering enhancing our engagement in the East Asia Summit and her two years spent working on Human Rights.
"It is my time in the Human Rights and Indigenous Issues Section (HRI) that is both professional and personally rewarding". Sara-Kate was able to progress Indigenous issues in international fora by developing a more forward leaning indigenous policy, including advocating for the inclusion of 'advancing the rights of indigenous peoples' as an additional Human Rights Council campaign pillar.
"As an Indigenous officer, one of my strengths is my ability to build relationships on indigenous issues through personal engagement and a common understanding. This has been incredibly fruitful during my short time in Sweden."
During her first weeks in Stockholm, Sara-Kate was asked to present at a Sami National Day event. "To stand in front a room full of proud Sami people, was heart-warming and humbling".
"To share stories, commonalities, a love of land, the culture, our history is what drives me to push and further advance DFATs engagement on indigenous issues".
During the weeklong celebration 7-14 July, we encourage you to take the time to reflect, to listen and to learn about the depth of our Aboriginal and Torres Strait Islander culture.
As the co-chairs of NAIDOC remark "The history of our First Peoples is the history of all of us, of all of Australia, and we need to own it - hearing this history is necessary before we can come to some true reconciliation, some genuine healing for both sides."
"Then we can move forward together. So, let's work together for a shared future."
The Department of Foreign Affairs and Trade
Minister for Foreign Affairs and Minister for Women, Senator the Hon Marise Payne
Minister for Trade, Tourism and Investment, Senator the Hon Simon Birmingham
Minister for International Development and the Pacific, the Hon Alex Hawke MP
Archives of former Ministers and Parliamentary Secretaries
Media from other Australian Government sources
About the Australian Government